Eazy Peazy Parties would be delighted to provide the fun and excitement for your child's birthday party and have provided additional information below.  We describe our optional extras to enable us to help you enjoy the day too.  You may choose any option. 

Base Package: £200
This exciting package will keep the children entertained!  It includes a 2 hour hire of our equipment including the following:-
Disco themed Jump 'n' Slide activity inflatable
Disco Dome
Music Centre with disco light and a dance area using mats
The Eazy Peazy Party team will work with you to organise a suitable venue, however, ultimately the booking will be made by you.  We like to make sure our equipment will fit safely to maximise fun and avoid any disappointment on the day.   When booking a venue please ensure a minimum of 30 minutes either side of the party to enable us to set up and clear away our equipment.
Please ensure that we have sufficient clearance in front of inflatables ie add on 2m to the length of domes.
Jump n Slide – 3.1m tall, 7.1m Long, 3.8m wide. 
Disco Dome – 3.6m wide, 4.3m Long.
We prefer to run our parties at 10am – 12pm for a morning party and 2.30pm – 4.30pm for an afternoon party.  Should you wish to book an alternative party time please discuss with the team.

We hope this information covers all your wants and needs to make your party Eazy Peazy.  If you would like to go ahead please let us know the date and time you wish to book (if you haven't already!).  Please note we require a 50% payment to secure the booking. 
Should you have any questions please do not hesitate to contact us.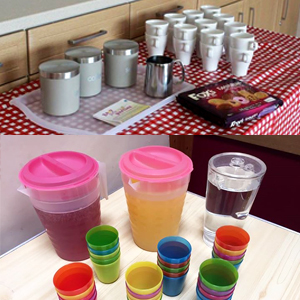 This package includes the following
Tea, Coffee, Sugar, fresh milk and biscuits for your adult guests (approx. 15 adults)
Real cups
X2 Plastic jugs with squash and water for the children
Plastic cups for the children
Price £15